Uzbekistan is currently undergoing a major digital transformation–arguably its biggest challenge since the Soviet Union breakup–and has set up ambitious goals for its digital growth it aims to achieve by 2030.
Already the most populous country in Central Asia, Uzbekistan is gradually emerging as a hub for startups with the influx of talent from neighboring states since the start of the war in Ukraine.
Sherzod Shermatov, Uzbekistan's minister of digital technologies, spoke to Icebreaker on the sidelines of the United Nations General Assembly (UNGA) in New York, detailing the country's vision for attracting foreign capital, addressing the impact of COVID-19, and combating the challenges ahead.
"Uzbekistan now is completely different from Uzbekistan we had up until 2016," Shermatov told Icebreaker, noting that in the past the country's isolation and outdated internet access were the main obstacles for foreign investors to establish their offices in the region.
Lofty Ambitions
Like most governments, Uzbekistan put together multi-year strategies like "Digital Uzbekistan 2030" back in Oct. 2020, aiming to reach the first billion of annual exports by 2026 and ultimately a $5 billion goal of annual export of IT services by 2030. By 2030 Uzbekistan also aims to have at least one unicorn and become among the top 30 countries in the world in e-government ranking.
Since then, the internet has turned from a luxury good to a necessity, with over 31.1 million internet users across the country. Further investment goes to establishing data centers, software development, telecommunications, mobile communications networks, and new IT parks such as the International Digital Technology Center–to be launched by the end of 2023 – to attract Western companies.
According to Shermatov, the country is now trying to shift its focus primarily to IT outsourcing and business process outsourcing. As a part of the "zero risk" program, Uzbekistan is attempting to attract foreign companies – primarily from the United States – by providing various incentives including IT visas, soft landing support, and legal assistance.
"For a US company, it's already difficult to make a decision to go and open the office in Tashkent, the capital of Uzbekistan, but we don't want them to go to Tashkent," Shermatov says, elaborating that the focus is to help establish offices and boost economic activity in Uzbekistan's regions outside the capital city.
A paradigm shift within the population that embraced remote work and became more reliant on fiber optic broadband was another driving force behind Uzbekistan's digital transformation in recent years.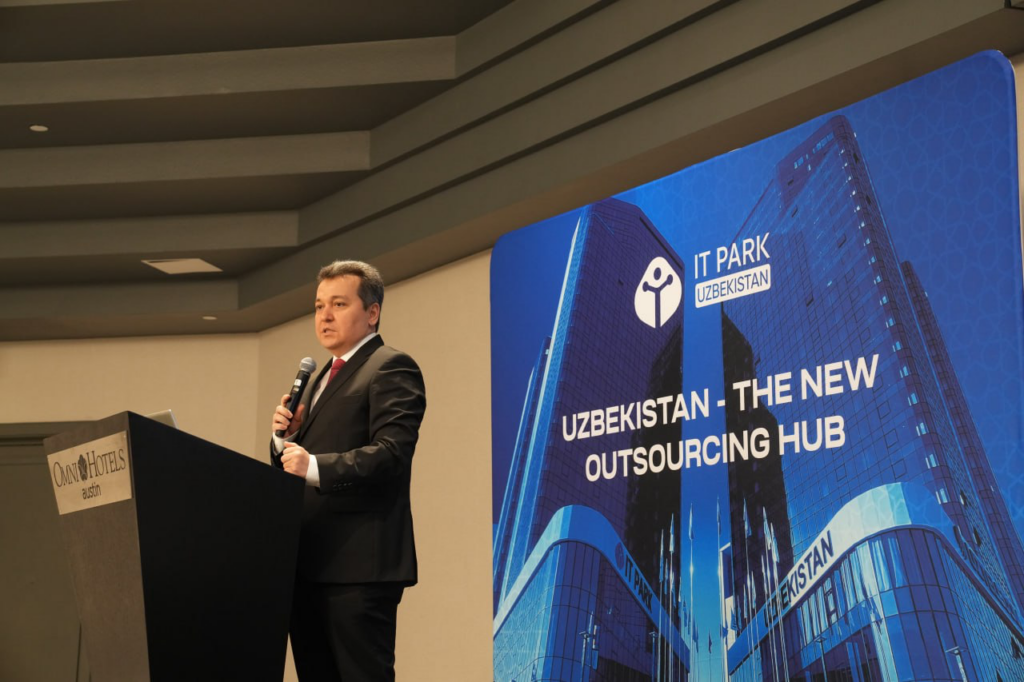 Challenges Ahead
Still, Uzbekistan is still battling the legacy of the Soviet Union, which resulted in a poor education system and an overall lack of awareness about the region.
"Unfortunately, from the Soviet times, we had a very bad history," said Shermatov, explaining that the country is still battling history of being blacklisted and having a large number of low-skilled labor migrants from other countries.
More recently, the influx of immigrant workforce provided an opportunity for Uzbekistan to attract companies from Belarus and Russia that would otherwise be isolated from the Western market.
The overall lack of awareness coupled with concerns about the shortage of talent means that unless there is an overall market and education reform, the ambitious goals of Uzbekistan might not be accomplished.
Another fundamental challenge for Uzbekistan is the lack of concentrated united effort according to Asror Arabjanov, a co-founder of Silkroad Innovation Hub, which aims to foster a community for founders and startups from Central Asia and Turkey in Silicon Valley.
"There has to be work not only from the side of the IT Ministry," Arabjanov. "All the ministries, all the government agencies have to work together to achieve this potential."
He also highlights the need for at least one or two successful exits at a one billion plus valuation that would be beneficial to the venture capital and startup ecosystem in Uzbekistan.
While Uzbekistan has been able to set its sights on many strategic goals, the next few years will be crucial in terms of showing the country's ability to attract and retain both foreign capital as well as entrepreneurs to make these dreams a reality.
"The work is being done and (now) they have to double down on that effort," says Arabjanov, commenting on Uzbekistan's potential to achieve their goals by 2030.