While Russia produces around 65 million tons of waste, only 10% is recycled according to Deutsche Welle estimates.
Increasingly, the Russian government and a number of private companies are launching solutions to help address this challenge at home and abroad.
Binology, which is a resident of Skolkovo Innovation Center, has secured an undisclosed seed amount from private investors and received several grants to date. Now they're raising 1 million euros in Series A, which they are looking to close by the end of March. 
The company is planning to enter the global market with its SaaS-based recycling technology, recognizing Russia remains a limited market at this time. It will use the funding to drive research, marketing and sales growth. 
The idea for Binology emerged in 2016, with a two-person founding team with a background in IT and waste management.
"Our founders decided that a new tool was needed," says Dmitriy Zhuykov, Binology's Business Development Director, in an interview with ICEBREAKER. "Then we studied global practices and created a tool that can be durable and withstand tough environments."
Over the next couple of years, they developed an MVP and tested their containers in a range of settings: from Moscow streets to luxury apartments to government centers.
The very first model of SmartBin Separation Station 2, which was placed in a town outside Moscow called Reutov, was the first pilot tested in 2019. One container can reduce the waste volume up to eight times, Binology estimates.
Binology has a range of products that work together: the recycling containers as well as the SaaS-based system for tracking and adjusting existing devices remotely. Its Binology Smart City Management tool is the core product that also allows to track existing street bins, for example, as well as optimize for the amount of waste pickup trucks, routes and the amount of pickup times per week.
"And out of 100% of waste generated by people, 10% remains and is shipped off to landmines," Zhuykov explains. "The rest goes to sorting and further recycling."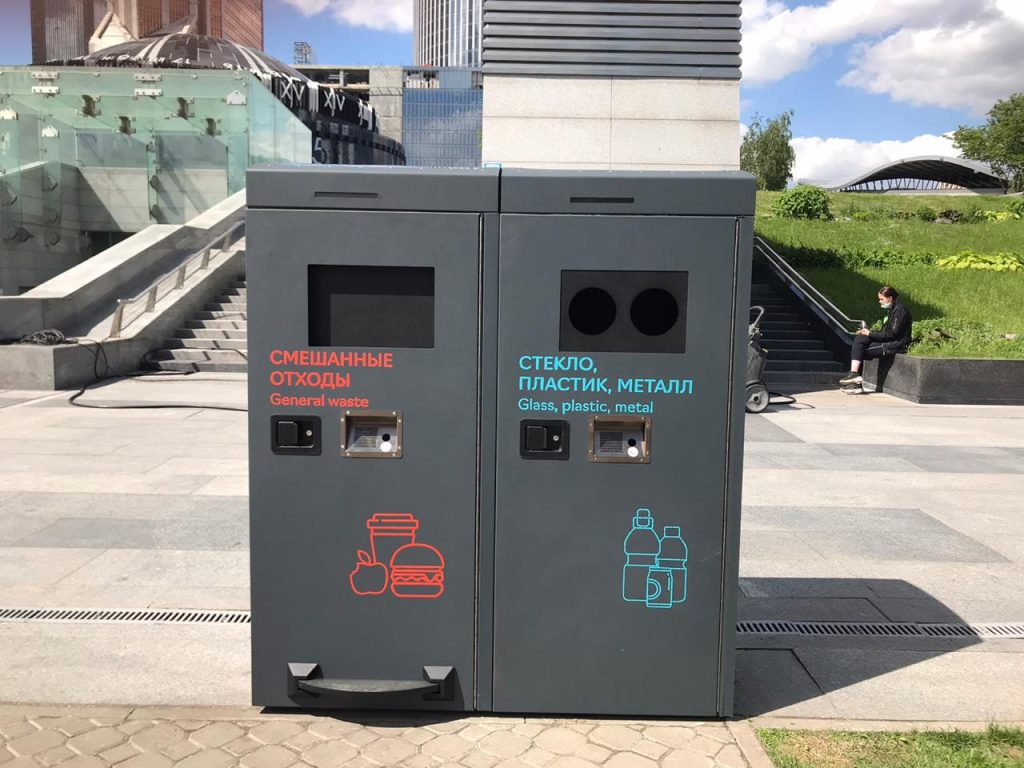 Within Russia, the company is focusing on direct sales, targeting city management, apartment building management, transportation hubs, airports, railroad stations and waste pickup companies as their target clients.
"Right now we have over 20 bins operating within Russia, mostly in Moscow and Nizhny Novgorod," Zhuykov says. "There are SmartBins located in MoscowCity, elite residential apartments and the Kremlin in Nizhny Novgorod."
After their first test in 2019, Binology was able to make updates and later enter the global market, according to Zhuykov.
"In a little less than two years, these bins have been sold to distributors in Latvia, Norway, Saudi Arabia, UAE, Netherlands," he says. "The distributors use them as samples to make sales."
Establishing Binology's products abroad is still a work in progress.
They're targeting municipalities, waste collection companies and other waste originators as their clients. The idea is to help customers cut costs, extract recycled materials and add revenue as ad space. (The bins become a client's property and can be used to sell street ads.)
"Distributors sell our products in local markets and manage maintenance with our support," Zhuykov notes. "These companies equip Smart Cities, waste collection companies, city management agencies – these are our target clients as distributors."
With this Series A funding, Binology hopes its global ambitions will become a reality and lead to more traction and sales in more developed markets.